TO:

ALL FAMILY SUPPORT DIVISION OFFICES

FROM:

JULIE GIBSON, DIRECTOR

SUBJECT:

TEMPORARY ASSISTANCE NEW SPOUSE DISREGARD FAMIS SCREEN CHANGES AND USER GUIDE
DISCUSSION:
The purpose of this memorandum is to inform staff of new fields in the Relationship Detail (FMA4) and Earned Income Disregards (FMXT) screens in the Family Assistance Management Information System (FAMIS).  These screen changes are effective Monday, November 9, 2015 and allow staff to enter information needed to implement the New Spouse Disregard discussed in Memorandum IM-#85 dated August 28, 2015.
The "Marriage Date" field has been added to the Relationship Detail screen.  Verification of the marriage is required before this disregard will be applied, and is only allowable for marriages occurring on or after August 28, 2015.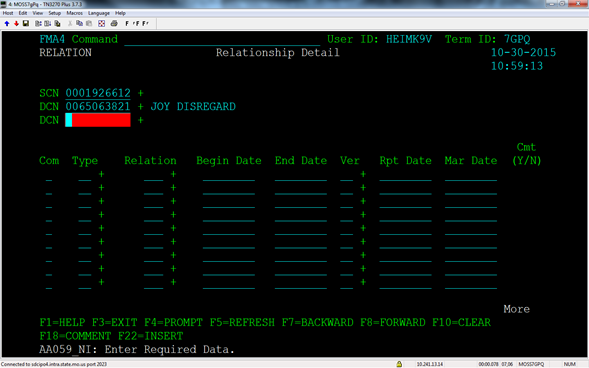 A new "Disregard Type", NEW SPO has been added to the Earned Income Disregards screen.  Enter the month the add-a-person application is being completed as the begin date.  If the grant cannot be affected that month, FAMIS will adjust the begin date to allow for the full six months of disregard. 
A New Spouse FAMIS User Guide has been created and may be accessed under FAMIS User Guides Interim Change on the Intranet.
NECESSARY ACTION:
Review this memorandum and user guide with appropriate staff.
JG/jkh