In an effort to assist staff in tracking the 60-month lifetime limit, the following screens are now available: ITME (Time Limit Tracking Main Menu), ITMI (Time Tracking Inquiry) and ITMU (Time Limit Tracking Update). The purpose of this memorandum is to introduce the new time limit tracking screens and explain how to use these screens. All screens are now available through the PROD and FAPC systems.

All staff will have access to the ITME and ITMI inquiry screen. Only staff designated to have update capabilities will have access to the ITMU update screen. Those designated to have access to ITMU have been informed and are now authorized to use this screen. ITMU instructions follow this memorandum as Attachment 1.

ITME

This screen is the menu into the time tracking system. From this screen, you will be able to access both ITMI and ITMU (if you have clearance). To access ITME, Type ITME and press enter. The following screen will appear: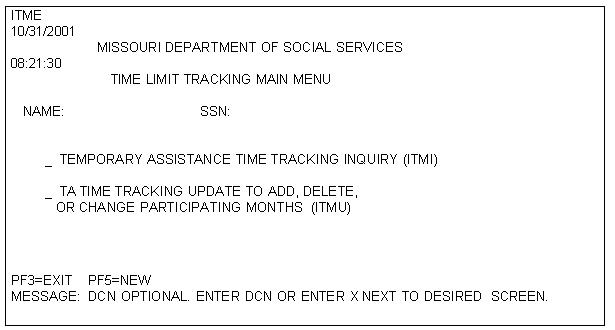 From ITME, space one over and type in the DCN. Place an X at the cursor position in front of TEMPORARY ASSISTANCE TIME TRACKING INQUIRY (ITMI). You may also type ITMI space DCN and avoid the menu if you wish. There may be other programs, which require time tracking, added to ITME later. When that happens, you will be notified in a future memorandum.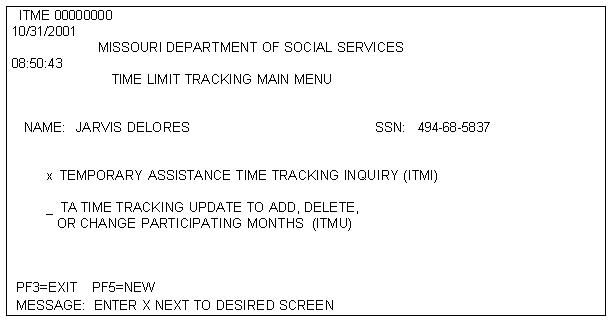 When you press enter, the ITMI screen will appear.
ITMI
The ITMI screen provides inquiry information on the total number of months an individual has received Temporary Assistance, been exempt from the 60-month count or received an extension for hardship. (Extensions for Hardship will be explained in a future memorandum).
Information in the IMU5 and JOBS systems is pulled over into this screen. ITMI will capture the following information from the other systems, it will not be necessary for staff to enter any of the following:
Regular monthly cash issuance's received in Missouri
Exempt reason 06 (Permanently Disabled Individual)
Exempt reason 07 (Payee 60 years of age or older)
Individuals receiving under the Wage Supplementation Program
Individuals who were sanctioned and removed from the Temporary Assistance case between July 1997 and October 1998 for failure to cooperate with FUTURES or failure to cooperate with Child Support Enforcement. These individuals were sanctioned from the cash case and cannot have this time period counted in the 60-month lifetime limit as they were not active.
ITMI HELP SCREENS
Help screens have been developed for the ITMI and ITMU systems. They are available in any location that has an entry in the field. To access the help screens move your cursor to the field in question and then press the F1 key. To exit the help screens, press the F3 key.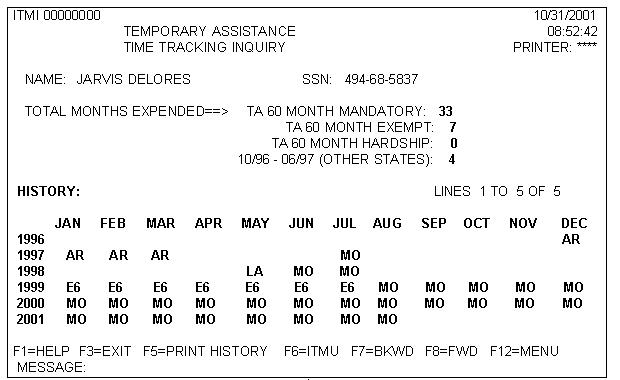 ITMI CODING
In the HISTORY section of ITMI staff will see a:
State code listed directly under the month. These codes are two letter postal codes and can be accessed in the help screen if staff is unsure of the state the individual has received in.
TA Time Limit Exempt code listed directly under the month. These codes are as follows:
| | |
| --- | --- |
| E0 - Repayment of Claims | E6 - Permanently disabled individual |
| E3 - Wage Supplement | E7 - Caretaker/payee age 60 or older |
| E4 - Families Together | E8 - DCSE Sanction (07/97 to 10/98) |
| E5 - Living in Indian Country/Native Alaskan Village with a population of 1000 and with 50% or more of the adults unemployed. | E9 - Futures Sanction (07/97 to 10/98) |
Hardship code listed directly under the month. This information will be available in a future memorandum.
From the ITMI screen on Ms Jarvis, staff may obtain the following information:
How many mandatory months an individual has received Temporary Assistance and in what state they received. You see from the screen that Ms Jarvis has received 33 months of her 60-month lifetime limit. 29 months show on the screen as mandatory and there is a 4 in the 10/96 - 06/97 field indicating that she received 4 mandatory months during this time frame in another state.
You will see what months she received between 10/96 -06/97 and where she received cash benefits listed in the 1996 and 1997, year rows. Some states began their 60-months lifetime limit in 10/96, and as this is a federal time frame Missouri will have to count these months in the 60-month count.

Edits will prevent staff from incorrectly entering any Missouri months in this section. Edits will also prevent any entries before 10/96.
How many months in that 60-month time limit the individual has been exempt and what that exemption reason is. You see from the screen that Ms Jarvis has 7 months exempted for Permanently Disabled Individual (E6). The help screen will identify what the E6 means.
If the individual has received benefits under a Hardship Reason. This will be explained in a future memorandum.
This is an inquiry screen only. All staff will have the capability to view this screen. The Division of Child Support Enforcement and the Division of Children's Services will also have access to this screen.

SECURITY

It is not necessary for each IM staff member to complete the On-Line Teleprocessing Security Report (DFS-137). This will be an automatic system change. However, by giving the additional clearance, the same security conditions listed on the initial security agreement remains in effect. This would include that:
IM staff understand that the information accessed is to be utilized only in the performance of assigned duties as a Division of Family Services Income Maintenance employee.
IM staff agrees to make no inquiry or updates which are not required for the performances of these duties.
Violations or disclosures of any information may result in disciplinary action that could include one or all of the following;
1. Suspension;
2. Civil court action; and
3. Dismissal.

"It must also be remembered that the Division and its employees have not only legal responsibility for confidentiality, but also ethical responsibility. The responsible handling of information dictates not only "what" we share and "to whom" but also "where". It is not done over lunch, coffee breaks, or in halls or elevators where names may be overheard by others. It must be remembered that the professional reputation of an agency is a collective reputation to which each individual contributes."