| | |
| --- | --- |
| TO: | ALL COUNTY OFFICES |
| FROM: | JANEL R. LUCK, DIRECTOR |
| SUBJECT: | VIEW RELATIONSHIP INFORMATION SCREEN |
DISCUSSION:
The View Relationship Information screen (VIEWREL or FM6T) was developed to show all relationships within a supercase or EU in a chart format. The screen was made available with the implementation of the Family Healthcare programs in FAMIS in 2006. Effective immediately, the screen is changed to help staff identify some types of relationship errors, and a DCN filter is added to allow all FAMIS relationships to that individual to be shown, including relationships to individuals outside the supercase. This memorandum describes all current screen functionalities.
Screen Functions
SCN filter
Either the SCN or the DCN must be entered on the screen. The screen shows all relationships within a supercase if the SCN is entered without an EU or DCN.
EU Filter
The user may prompt for any eligibility unit to view information only for that EU.
DCN Filter
Users may type or prompt for a DCN to view only the individuals related to a specific individual. This includes relationships to individuals outside the supercase. Use of the DCN field does not require the SCN or EU. The result is the same whether or not these fields are populated.
NOTE: Due to confidentiality requirements, do not use the DCN in locations where applicants/participants can view the screen.
Individual information
The screen lists the names of all individuals in the supercase or EU, or the individual associated with the DCN, in the left column. The top three rows display the DCN, date of birth, and name of related individuals. The grid displays all relationships.
The method of reading relationships is changed from the original version of the screen. Read the name from the left column, then across to the relationship and up to the individual with that relationship.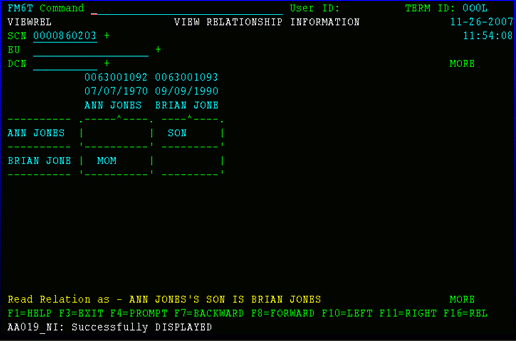 Function Key
The Relationship Detail screen (RELATION or FMA4) may be accessed to correct relationship errors from the View Relationship Information screen (VIEWREL or FM6T) through use of the F16=REL key. A return key (F21=RETURN) is provided on the Relationship Detail screen to return to the updated View Relationship Information screen.
Identifying relationships in error
FAMIS is capable of identifying when a person is coded as having multiple moms, dads, or spouses, even when one or more of the relationships are to individuals not in the current supercase. When this occurs; the screen changes the person's name to red and shows the person's DCN in left column. The potentially incorrect relationships and corresponding individuals are also shown in red. If only one relationship is shown, use the DCN filter to view all relationships for the person with the error. Use the Relationship Detail screen (RELATION or FMA4) to correct any erroneous relationships.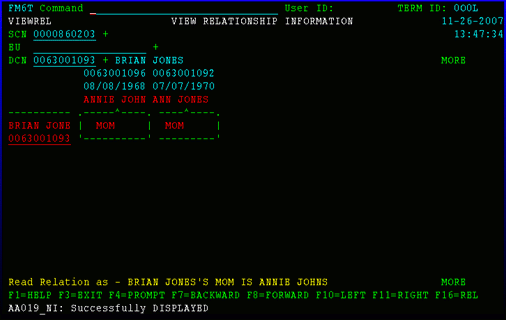 NECESSARY ACTION:
Review this memorandum with appropriate staff.
MRT