TO:

ALL FAMILY SUPPORT DIVISION OFFICES

FROM:

JULIE GIBSON, DIRECTOR

SUBJECT:

TEMPORARY ASSISTANCE DIVERSION PROGRAM
MANUAL REVISION #: 1
2042.000.00 – 0242.035.00
DISCUSSION:
The purpose of this memorandum is to inform staff of a new program available January 1, 2016. The Temporary Assistance Diversion (TA Diversion) program was created in the Strengthening Missouri Families Act (Senate Bill 24, 2015) as an alternative to the Temporary Assistance (TA) cash benefit program.
TA Diversion is a single lump sum payment which is equal to the maximum payment for the household size for either two or three months of TA cash benefits. Participants who choose the TA Diversion payment are not eligible for another diversion payment for a 12-month period. Additionally, a participant who has received a TA Diversion payment is not eligible to receive TA cash benefits for the same number of months the TA Diversion payment equals.
EXAMPLE: Joan Smith applied for and received a lump sum TA Diversion payment that was equal to three months of TA cash benefits. Joan applied for and was approved in January. Her lump sum payment in January causes her to be ineligible for TA cash benefits in January, February and March. The first month Joan can possibly be eligible for TA cash benefits is April.
TA Diversion payments do not count toward the TA cash benefit lifetime limit, and participants may only receive TA Diversion payments five times in a lifetime.
The process for applying for TA Diversion is the same as applying for TA cash benefits. A new screen has been added to the FAMIS flow to capture the Diversion questions. This screen, DVERSION (FMDK) appears after the Dependent Care Expense (FMRB) screen and before the DISREGRD (FMXT) or Supercase Eligibility Unit Summary (FM30), depending whether the family qualifies for a disregard. Applicants must choose at the time they apply whether to receive TA Diversion or TA cash benefits if they are determined eligible for both programs.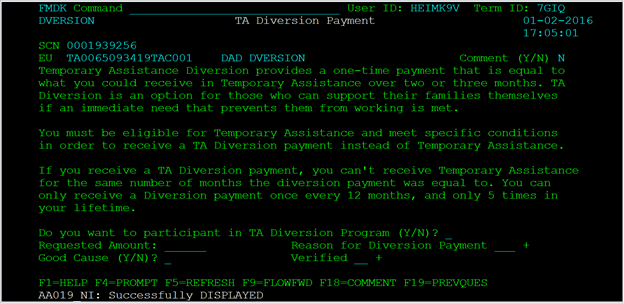 Staff must explain the details of both TA Diversion and TA cash benefits to the applicant to assist the applicant in determining whether TA Diversion may meet the needs of their family. If TA Diversion is selected, staff must determine if the applicant qualifies for a good cause reason to qualify for Diversion. Good cause reasons include:
An involuntary loss of employment with certain exceptions;
A catastrophic illness or accident that leaves the participant unable to work temporarily or permanently;
Temporary loss of child care services;
The participant is a victim of an incident of domestic violence;
An employed participant is unable to care for the basic needs of his or her family due to an emergency or other event;
Loss of transportation to work or school; or
Other event as determined by the agency.
Staff should review the TA Manual, Section 0242.000.00 Temporary Assistance Diversion Requirements for specific eligibility criteria.
A FAMIS TA Diversion User Guide has been developed to help staff navigate the screens in FAMIS used for the TA Diversion program.
When approving a TA Diversion application, staff must enter the information on the attached Temporary Assistance Diversion Approval Notice (IM-32DIV) to notify the applicant of the approval. FAMIS cannot generate this notice at this time.
Additional changes will be made to the FAMIS system surrounding TA Diversion. Staff will be notified when those changes are in production.
NECESSARY ACTION:
Review this memorandum with appropriate staff.
ATTACHMENTS:
JG/jkh