Effective September 19, 2005, FAMIS will prevent additional child authorizations to registered family home providers with an exempt type of FOL (four or less) when four unrelated children have active authorizations with the provider.
The error message "Child auth denied. 4 unrelated authorizations for this provider" displays when staff attempts to authorize more than four unrelated children to an FOL provider.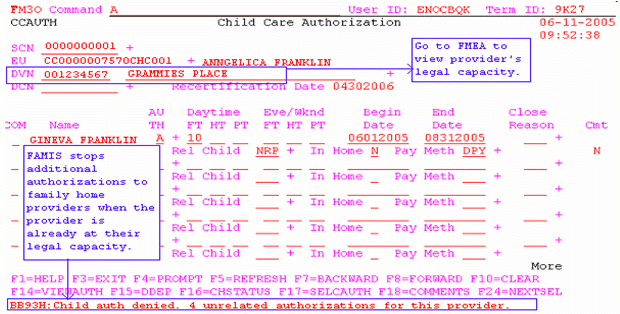 You may check the provider's legal status on the provider registration screen, FMEA: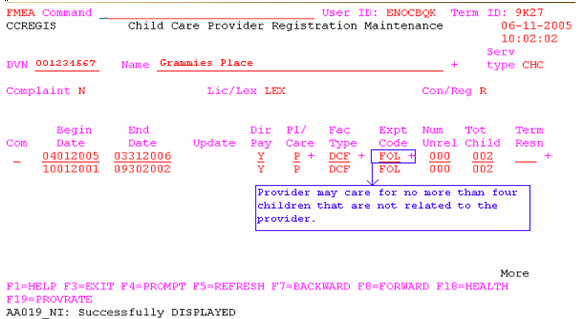 NOTE: When the provider or the parent claims that the child in care is related to the FOL provider, the relationship of the child to the provider must be verified before the child is authorized to the provider in FAMIS.
CURRENT FOL PROVIDERS:
A listing entitled "COUNTY LISTING OF FOL PROVIDERS WITH AUTHORIZATIONS EXCEEDING FOUR UNRELATED CHILDREN" is attached to this memorandum. For all providers listed, staff must contact the provider to verify the number of children authorized and determine if the provider is out of compliance.
Some center based facilities are listed on this report with an FOL designation in FAMIS. These facilities must have a valid exemption status with the Department of Health and Senior Services, Bureau of Child Care and that can be verified in MOHSAIC. Instruct the facility to contact the DHSS, Bureau of Child Care to have an exemption status assigned. If a facility does not have a valid exemption in MOHSAIC, they cannot continue to receive subsidy reimbursement.
In the event a provider has exceeded the number of unrelated children allowed, the provider must decide how they will resolve the non compliance. They must either pursue licensure or maintain enrollment at no more than four unrelated children.
Unrelated authorizations that exceed four must be resolved. Instruct providers to work with the parents of the unrelated children in care to determine which authorization will be changed. When the county office is contacted by these parents, assist them in locating other child care arrangements by referring them to their local Child Care Resource and Referral agency. A listing of these agencies is located a www.moccrrn.org.
The Children's Division, Early Childhood and Prevention Services section will continue to send this listing on a monthly basis until all providers listed are in compliance. However, the expectation is that the providers listed will be in compliance within 30 days of the date of this memorandum.
PROVIDER NOTICE:
The following message appears on provider invoices (paper and on line invoices) for September service month generated on September 20, 2005:
"This message is a reminder that registered family home child care providers are not allowed to care for more than four unrelated children. In the near future, Family Support Division staff will be contacting registered providers showing more than four unrelated children authorized for care to determine if these additional children are related. If you are currently shown in our computer system as receiving child care subsidy for more than 4 unrelated children, you must do one of three things: 1) provide verification of your relationship to these additional children, 2) become licensed by the Department of Health and Senior Services child care licensing, or 3) reduce the number of unrelated children in your care to no more than four.
If you have questions, please contact your local FSD office.