Effective December 5, 2005, fields on the Child Care Attendance-Direct Pay Screen changed.
These screen changes are necessary to fine-tune the display of the provider's payment. The images of the previous version of the screen and the new version are included in this memorandum.
FORMER VERSION OF FM5P
Previously, the payment for daytime and evening/weekend units were added together and displayed in the Actual Amount (Act Amount) field. Although, separate payment amounts for daytime and evening/weekend care were reported to providers on their payment receipt (Remittance Advice,) this information was not available to staff.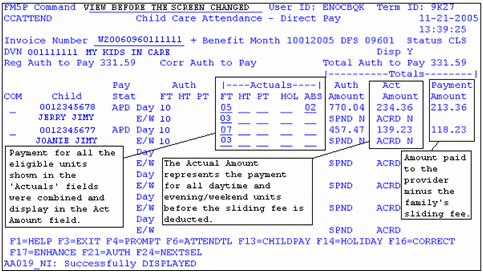 SCREEN CHANGES
The screen changes display the payment amount for daytime and evening care separately. The number of units eligible for payment display in the 'Actuals' field. The 'Act Amount' is determined by multiplying the unit rates by the eligible units in the 'Actuals' field. The 'Act Amount' fields show prices before the family's sliding fees are deducted. The 'Payment Amount' shows the provider's payment for each child.
When a child is authorized for both daytime and evening/weekend units, two rows of units and prices display. Daytime and evening/weekend care units and payments are now separated.
The Accreditation and Special Needs indicators are abbreviated as AC/SN to allow space for the changes.
In the example below, care was paid for Bobby Clever in the amount of $870.32, of which $515.00 is daytime care and $355.32 is for evening/weekend care. In this example, the families have no sliding fees so the 'Act Amount' and 'Payment Amount' fields show the same dollar amounts.