Effective March 29, 2005, a change is made to the FM5P/CCATTEND screen in FAMIS.
Providers accessing the Child Care Online Invoicing System are not paid when there are corresponding rates missing in the contract registration system for an authorized child. The provider will notice this missing payment when the child does not show on their remittance advice sent out with their check. To get paid for the child, the provider will need to complete a new contract. In their new contract, they will need to include the rates that were previously excluded. An IRS W-9 will also need to be submitted with the contract. Once the contract has been fixed, county staff will need to issue a corrective payment for any missed payments.
FM5P/CCATTEND has been updated to help staff identify when a provider is not paid due to missing rates. When there are missing rates for a particular child, the "Pay Stat" code NOR will now display on FM5P/CCATTEND.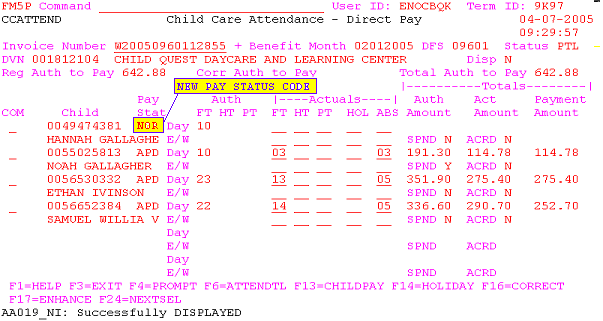 By entering an "s" on the COM line next to the child labeled NOR and selecting F6=ATTENDTL staff can see the attendance the provider entered on the online invoice. The entered attendance assists staff in calculating the corrective payment.