Department of Social Services
Family Support Division
PO Box 2320
Jefferson City, Missouri
TO:  ALL FAMILY SUPPORT OFFICES
FROM:  KIM EVANS, DIRECTOR
SUBJECT:  UPDATES TO DISCHARGED PAROLEE DRUG CONVICTION EXCEPTION VERIFICATION (IM-368) FORM
FORM REVISION #
IM-368
DISCUSSION:
The Discharged Parolee Drug Conviction Exception Verification (IM-368) form for the Supplemental Nutrition Assistance Program (SNAP) has been updated in coordination with the Missouri Department of Corrections (DOC) with the following changes:
the form is fillable
the DOC email address for submission has been updated to Probation.Parole@doc.mo.gov
the email address for DOC to return the form has been updated to ColeFSPolicy@dss.mo.gov
buttons have been added for electronic submission of the form via email
The IM-368 is required to be submitted when a SNAP participant has been discharged from parole within the prior three years and will meet the other requirements laid out in 1105.015.10.35.10 Exceptions to Felony Drug Conviction Disqualification. As the form is already in use, the process for completion remains the same. Once all the participant information has been entered, click the Submit to DOC button directly on the IM-368.

By clicking Submit to DOC, a warning will display about submitting the document; and by clicking Okay, the participant information entries will be locked as read-only. A Send Email dialogue box will pop up prompting staff to choose an email application. The Default email application (Microsoft Outlook) should be selected, and staff should then click continue.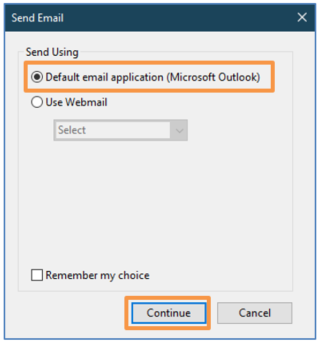 A new Outlook message should open with the email address to DOC (Probation.Parole@doc.mo.gov) already populated, and the message is ready to be sent. This email address is only to be used with the IM-368 and should not be given to a participant. Once sent, DOC will complete the section "Missouri Parole Board to complete the following:" and email the form back to ColeFsPolicy@dss.mo.gov.
The completed form will display the message, "This form has been returned from DOC to be added to the participant's case record" in orange at the top of the page.

Once received, the SNAP policy team will upload the document to be worked by staff. The response from DOC should be entered as provided when adding the verification of the drug conviction exception in the eligibility system.
NECESSARY ACTION:
Review this memorandum with appropriate staff.
Begin using the new version (6/2022) immediately.
Discard and destroy all (4/2015) or older versions of this form.
KE/tl