Department of Social Services
Family Support Division
PO Box 2320
Jefferson City, Missouri
TO:  ALL FAMILY SUPPORT OFFICES
FROM:   KIM EVANS, DIRECTOR
SUBJECT:    APPROVING MO HEALTHNET FOR THE AGED, BLIND, AND DISABLED (MHABD) NURSING HOME CARE ON A DATE OTHER THAN THE DATE OF ADMISSION TO ALLOW PARTICIPANT TO DEPLETE RESOURCES BELOW THE RESOURCE LIMIT
DISCUSSION:
It is sometimes necessary to approve Nursing Home (vendor) Care on a date other than the date the participant was admitted to the facility. For example, this may be necessary if the individual has resources in excess of the program limit when they enter the facility, and then spends the resources down below the program resource limit.
EXAMPLE: Mr. Jacobs entered a nursing facility on August 5, 2019. He applied for vendor care on August 10, 2019. His resources were above the program limit. He stays at the facility as a private pay resident for his care until his resources are reduced below the program limit. Based on the cost of care and verified payment to the facility, his resources will fall below the resource limit effective September 15, 2019.
If eligibility is allowed to begin September 1, the facility would refund his private pay funds, causing his resources to again exceed the resource limit.
To avoid this cycle, eligibility for vendor coverage, in this example should not begin prior to September 15, 2019. This will be accomplished by entering the date his resources first fall below the program limit in the Payment Start Dt (Lev 2 Scrn) field on the Facility and Placement Information Details (FMJ5) screen in FAMIS.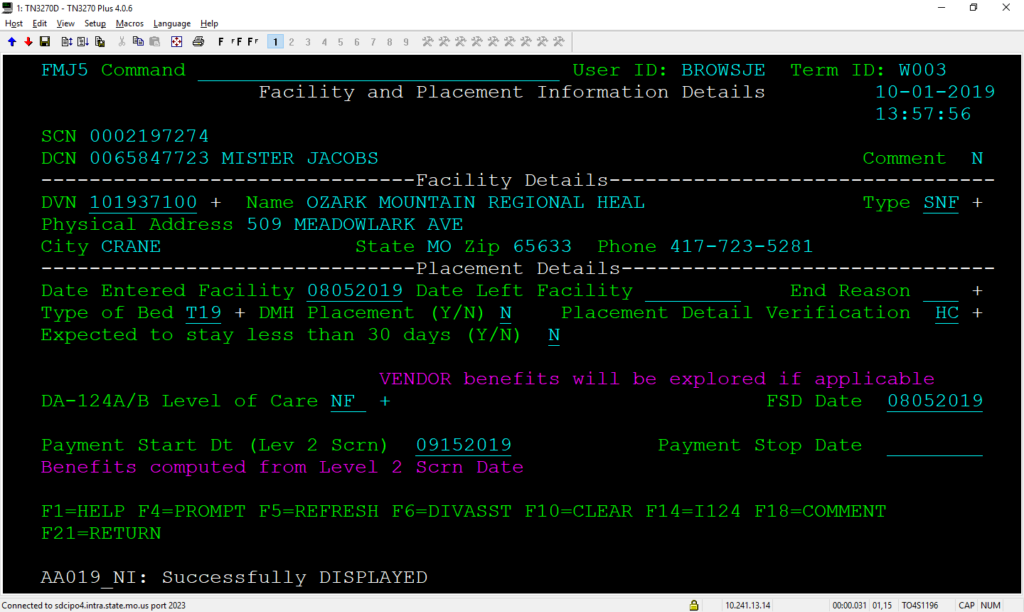 Enter a comment to explain the reason for the date and how the date was determined.
The Facility and Placement Information Details (FMJ5) screen has been updated to allow entry of future dates. FAMIS will now accept future dates as far in the future as the first day of the last month that will be included in the current eligibility determination.
EXAMPLE: Eligibility determination (EDRES) completed October 1st will include October, November, and December. December 1, or earlier may be entered as the Payment Start Dt.
When an EDRES is completed, FAMIS will propose MHNS or MHSD for the days in the month prior to the date the resources were actually reduced below the limit, followed by vendor for the date the resources are first below the limit through the end of the month.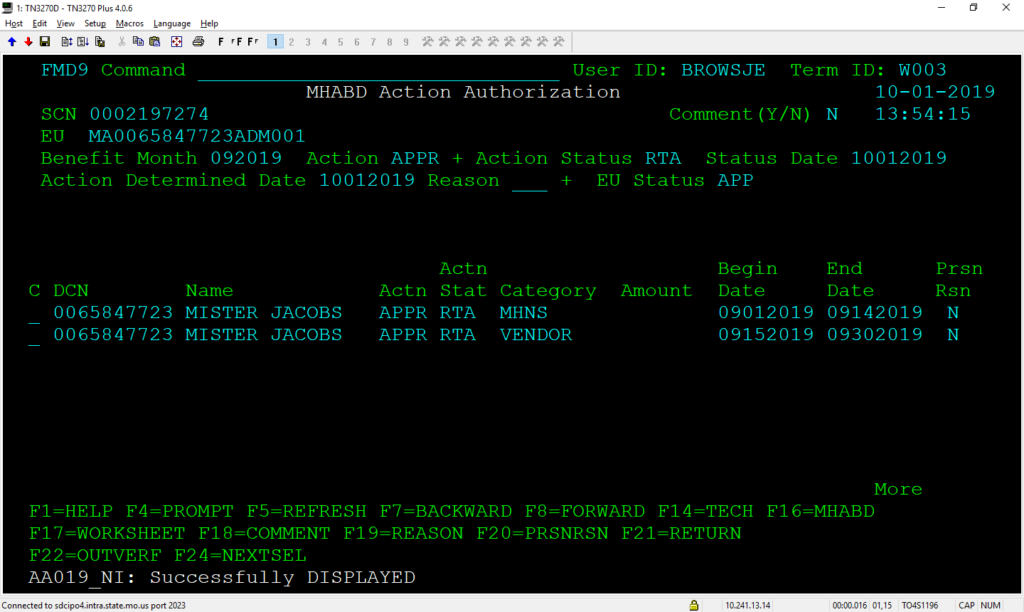 It is appropriate to allow the MHNS or MHSD to approve for the days of the month prior to the reduction of resources because the participant is eligible for the entire month in which their resources are below the limit.
1030.000.05 RESOURCES FALL BELOW LIMIT IN MONTH OF APPLICATION
NECESSARY ACTION:
Review this memorandum with appropriate staff.
KE/vb