Department of Social Services
Family Support Division
PO Box 2320
Jefferson City, Missouri
TO:  ALL FAMILY SUPPORT OFFICES
FROM: KIM EVANS, DIRECTOR
SUBJECT: INTRODUCING INCARCERATION MATCHES FOR THE SUPPLEMENTAL NUTRITION ASSISTANCE PROGRAM (SNAP)
MANUAL REVISION #
1141.010.10
DISCUSSION:
Per federal regulations, the Family Support Division (FSD) must compare SNAP household member data to information received from all Federal, State, and/or local detention or correctional institutions to ensure incarcerated individuals do not receive SNAP benefits. When a match is found, a Notice of Match Result (NOMR/FA-601) is sent by the eligibility system advising the household of the match.
The NOMR allows 10 days for the SNAP household to respond and/or dispute the match. After 10 days, if the household does not respond to the NOMR, or if the household responds, but fails to provide enough information to clarify the circumstances, a Notice of Adverse Action (NOAA) is system generated. At the end of the adverse action period, the matched individual will be removed from the household and benefits will be adjusted accordingly, or the case could close.
The Match Notice field will display "Y" on Select Interface (INTRFACE/FMK0) screen in FAMIS if an individual is matched as potentially incarcerated and an entry with source type of SMP will be displayed.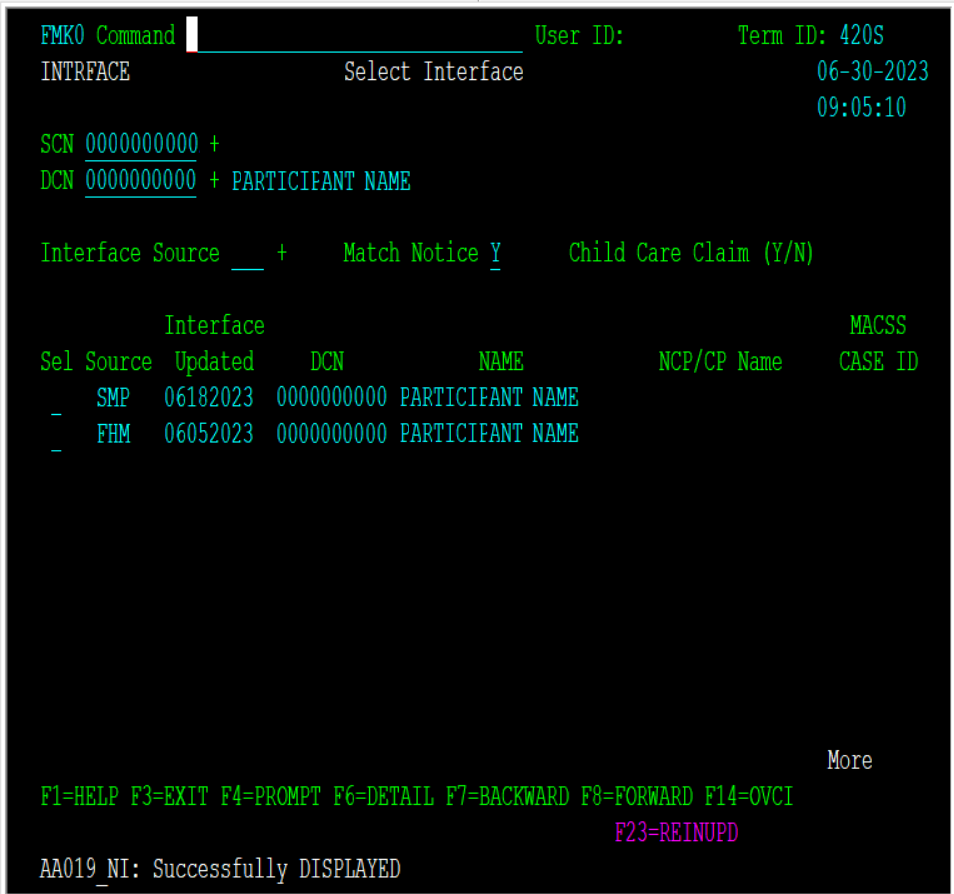 Note: SMP stands for SNAP Match Prison on Select Interface
If a participant is not incarcerated or has been recently released, the Match Notice field should be updated to "N" once the household has provided verification. If an adverse action or closing action was already initiated, it will also need to be voided once the participant provides proof that the household member is not incarcerated.
Only cases with active SNAP participation will display the Match Notice Indicator and be sent a NOMR. All other programs will only show the SMP and Match Notice Indicator on INTRFACE when the matched participant is also active on a SNAP case. For Non-MAGI MO HealthNet and Child Care, no action will be taken by the system even if the matched individual is also active on SNAP; however, Temporary Assistance cases will begin an adverse action at the same time as SNAP if the match is not resolved.
NECESSARY ACTION:
Review this memorandum with appropriate staff.
KE/tl