Department of Social Services
Family Support Division
PO Box 2320
Jefferson City, Missouri
TO:  ALL FAMILY SUPPORT OFFICES
FROM:  KIM EVANS, DIRECTOR
SUBJECT:  EMPLOYMENT AND TRAINING RESOURCES
DISCUSSION:
The Missouri Department of Social Services sponsors Workforce Development programs to help low-income Missourians – youth and adult – achieve long-term employment success. This memo provides Family Support Division (FSD) employees with resources they can share to help parents connect with resources.
Programs are free to participants and offer case management/job coaching services, employability plans and assistance with other work and training costs.
DSS YOUTH PROGRAMS
Jobs League
Helps interested 14- to 24-year-olds learn job skills, identify career goals and training needs, and provides paid employment with local businesses.
It can be the first connection to a job and potentially a first paycheck.
For more information: https://jobs.mo.gov/summerjobs.
Jobs for America's Graduates – Missouri (JAG-Missouri)
Currently, 59 schools participate in JAG by offering 82 programs to middle school, high school, and alternative schools students. This program will continue to rapidly expand to new schools.
JAG provides extra guidance, help for classroom success, and work-based learning to help youth overcome challenges to graduate high school and transition into employment or training.
For more information: https://jag-missouri.org.

There are contact links available at the Internet site, or parents can contact school counselors regarding program availability and participation.

Note: DSS only provides a portion of the funding for JAG.
DSS YOUTH AND ADULT PROGRAMS
Healthcare Industry Training Education
Helps qualified persons 18 and older train in one of 19 high-demand health industry career fields.
Available in the Kansas City, St. Louis metro areas, and Central Missouri.
For more information: https://mydss.mo.gov/hpog-hite.
SkillUP
Food Stamp (SNAP) recipients 16 and older receive assistance from coaches to find career paths, create resumes, learn interviewing and interpersonal skills and, in many cases, participate in paid training.
Can receive help with transportation, work, and child care expenses.
For more information: https://mydss.mo.gov/skillup-program.
Missouri Work Assistance
OFFICE OF WORKFORCE DEVELOPMENT AND WORKFORCE DEVELOPMENT BOARDS
Job Centers
DSS AVAILABLE TRAINING
Staff interested in obtaining more information can visit the DSS Learning Center and take the following course selections:
FS000473 – Workforce Development Unit Overview: HITE program
FS000472 – Workforce Development Unit: MWA
FS000471 – Workforce Development Unit: SkillUP
To access these selections:
Choose Family Support Division and Enter the Course Code into "Search For"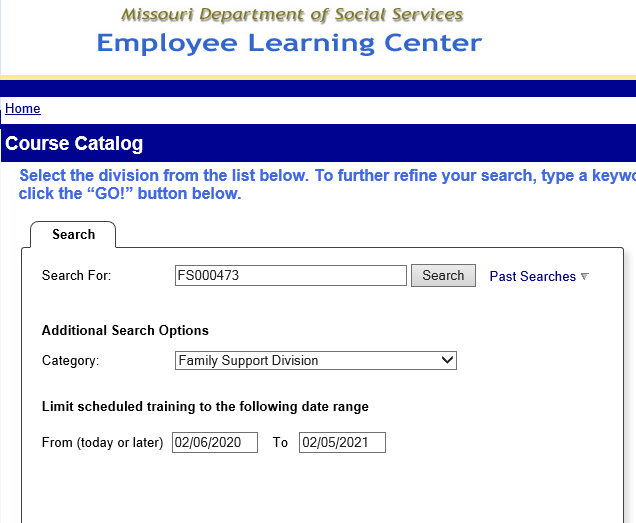 TRAINING AVAILABLE ON THE SKILLUP PORTAL
Some trainings on the SkillUP portal (https://dss.mo.gov/skillup-provider-portal) that FSD staff may find useful include:
Below the Line – Understanding Poverty.
Dealing with Mental Anxiety
Domestic Violence Training
Executive Function
Executive Function Skills and Stress
Introduction to Mental Health First Aid
Overcoming Barriers
ADDITIONAL INFORMATION
If you are working with a SNAP recipient, complete the SkillUP Referral Form and email it to SkillUP.Missouri@dss.mo.gov. Fill in all known information about the individual on the referral form so the Workforce Development Unit can refer the client to the appropriate provider. If you are employed in the FSD Information Center, continue to use the referral process and disregard the referral form.
FSD Staff who want additional information can call the DSS Workforce Development Unit at (573) 751-6975 to request additional information or discuss possible referrals to specific programs.
NECESSARY ACTION:
Review this memorandum with appropriate staff.
Complete the Referral Form when necessary
KE/df