FROM: KIM EVANS, DIRECTOR
SUBJECT: DETERMINING CORRECT APPLICATION DATES FOR ALL PROGRAMS
DISCUSSION:
In a recent Program Access Review (PAR), the Food and Nutrition Service (FNS) found Supplemental Nutrition Assistance Program (SNAP) applications registered with incorrect application dates. This memo provides clarification in determining correct application dates for all programs.
Incorrect application dates can result in:
benefit payment errors,
incorrect eligibility begin dates,
improper processing timeframes, and
increases to the agency's error rates for accuracy and timeliness, potentially impacting federal funding.
Application dates must be carefully evaluated during both registration and processing to ensure that the correct date is used.
Application Date vs Agency Received Date
Application dates are determined by the date and time that an application with the minimum required information is received by the agency. (See policy for program-specific requirements.)
Applications received before 5:00 p.m. Monday – Friday are considered as received on that date.
Applications received outside of business hours (after 5:00 p.m., on a weekend, or on a holiday) are considered as received on the next business day.
Note: MO HealthNet (MHN) applications received by phone or online, including applications from the Federally Facilitated Marketplace (FFM), are an exception. Regardless of the time of day or day of the week received, online and FFM applications are dated the day the application was successfully submitted and phone applications are dated the day that the telephonic signature was captured.
Identifying Date/Time of Receipt
With the exception of applications received through the Upload Portal, applications must be opened and viewed in order to see the received date.
Received date location examples:
Upload Portal: Added On date in the Electronic Content Management system (ECM)
Online/AEM (not MHN): Submitted Date Time on bottom of each page

Resource Center: Date stamp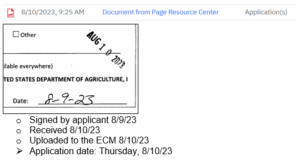 Fax: Receiving information on bottom or side of page

MHN – Online, phone, FFM: MHN Application Case tab

When Multiple Applications are Received:
If more than one application is received for the same program, the first application received is the application to be registered.
Example: Two Temporary Assistance applications are found in the ECM, dated 9/12 and 9/14. The eligibility system shows that neither has yet been processed.
The 9/12 application is registered but both applications are reviewed during processing.
Registering the Correct Applicant:
Care must be taken to ensure that applications are registered under the correct applicant. Applications registered under an incorrect head of household cause delays for the applicant and could result in a breach of confidentiality for either party.
NECESSARY ACTION:
Review this memorandum with appropriate staff.
Review content and resources in the Application Registration row of FAMIS Resources.
KE/mn