Department of Social Services
Family Support Division
PO Box 2320
Jefferson City, Missouri
TO:  ALL FAMILY SUPPORT OFFICES
FROM: KIM EVANS, DIRECTOR
SUBJECT: CRYPTOCURRENCY AND DIGITAL CURRENCIES FOR SUPPLEMENTAL NUTRITION ASSISTANCE PROGRAM (SNAP) AND MO HEALTHNET FOR THE AGED, BLIND, AND DISABLED (MHABD)
MANUAL REVISION #
1030.015.10
1110.000.00
1110.025.00
DISCUSSION:
Policy for cryptocurrency and digital currencies has been added to the SNAP and December 1973 Eligibility Requirements Manuals. These currencies should always be explored when discussing income and/or liquid resources. A Request for Clearance (IM-14) should be submitted for case-specific clarification for Temporary Assistance and/or other combination cases.
Cryptocurrencies and digital currencies should be valued using the U.S. Dollars (USD) price listed on the exchange where the currency is stored or traded. The rate listed on the exchange is for one unit of crypto currency/digital currency and will need to be multiplied by the total units held.
If Bitcoin (or any other digital currency) is purchased or held on the "Coinbase" exchange, use the rate listed on that exchange provided by the participant.
If the digital currency is not held on an exchange, staff should utilize Coinranking.com and use the 30 day average of the currency's value for the resource amount.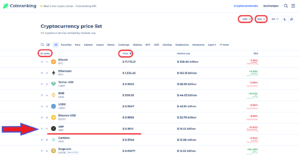 Example: Hillari owns 10 units of XRP digital currency. The above screen from Coinranking.com gives the USD conversion over a 30 day time period for one unit of XRP as $0.3910, making the calculations as follows:
10 XRP units x $.03910/unit = $0.39 total units held value
When verifying these liquid resources:
Document the website used to determine the value of the cryptocurrency/digital currency;
Note the exact exchange rate at the time of the interview or the calculations used to get a 30 day average;
Document the amount of cryptocurrency and/or digital currency the household owns; and
If obtainable, submit a screenshot of the exchange site the participant is using to the Electronic Content Management (ECM) system.
If the participant is able to show digital currency amounts through a digital currency ledger, submit a copy (if able) to the (ECM. Self-attestation may be permitted if unable to show an account ledger.
When entering in the eligibility system, code as a liquid resource on the Select Financial Resource (SELFRES/FMWB) screen. Use savings as the type and add a comment explaining the findings.
NECESSARY ACTION:
Review this memorandum with appropriate staff.
KE/se