Department of Social Services
Family Support Division
PO Box 2320
Jefferson City, Missouri
TO:  ALL FAMILY SUPPORT OFFICES
FROM: KIM EVANS, DIRECTOR
SUBJECT: UPDATES TO IIVE STORAGE AND USE
MANUAL REVISION #
0110.025.10
1141.010.10
1805.020.05.05
1805.030.20.10
DISCUSSION:
Policy is updated to match current processes and clarify that copies of IIVEs cannot be stored in the case record. Policy manual updates are summarized below:
0110.025.10 Unearned Income in the General Information manual:
Review IIVE to verify Social Security and/or SSI for all participants.
1805.020.05.05 Documents to Verify Citizenship for MO HealthNet:
Note: Do NOT file IIVE screens in case record.
1805.030.20.10 Income Excluded Under MAGI in the Family Healthcare manual:
Enter all sources of income into the eligibility system including excluded income.
1141.010.10 Incarceration Matches in the SNAP manual:
Review IIVE for a TPQY Prisoner Response at SNAP application. The TPQY Prison Response provides the following:

Prisoner's name, identifying information and status code

02 – Non-pay inmate of public institution
22 – Non-pay Inmate of correction institution

Confinement and release date,
Facility name and contact information,
Reporter and reported date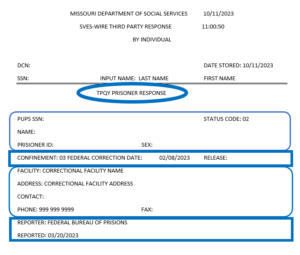 NECESSARY ACTION:
Review this memorandum with appropriate staff.
KE/se